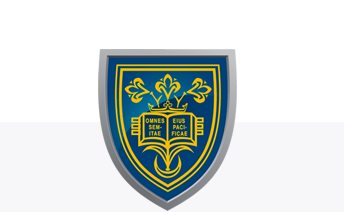 Faculty/Staff Directory Search Results

In most cases, please use the last 4 digits of the listed phone numbers when calling from any campus.
B
E
G
H
J
L
M
N
P
R
S
W
Back to Top Birnbaum, Laura
Adjunct Faculty
MSW- Masters in SWK
Email: lbirnbaum@css.edu

Back to Top Endris, Laurie
Adjunct Faculty
Social Work Extended Studies
Email: lendris@css.edu

Back to Top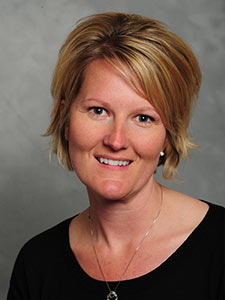 Griffin, Kara
Adjunct Faculty
Social Work Extended Studies
Email: kgriffin1@css.edu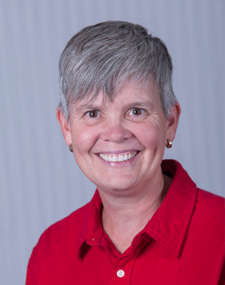 Gunderson, Constance
Assoc Prof, SWK/Dir, Grad SWK
MSW- Masters in SWK
Office: S1129C
Phone: (218) 625-4430
Email: cgunderson@css.edu
Back to Top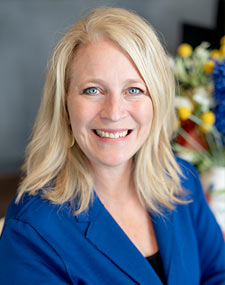 Harju, Krista
Asst Prof/Dir SWK UG Program
Social Work
Office: T3413
Phone: (218) 723-6787
Email: kharju@css.edu
View Site Hoeper, Jessica
Adjunct Faculty
Social Work Extended Studies
Email: jhoeper@css.edu Homstad, Bailey
Adjunct Faculty
MSW- Masters in SWK
Email: bhomstad1@css.edu Homstad, Troy
Adjunct Faculty
Psychology
Email: thomstad@css.edu Huggins, Eileen
Adjunct Faculty
MSW- Masters in SWK
Email: ehuggins@css.edu

Back to Top
Back to Top Lake, Ronald
Adjunct Faculty
Social Work
Email: rlake1@css.edu

Back to Top
Back to Top Newton, Ina
Adjunct Faculty
MSW- Masters in SWK
Email: inewton@css.edu

Back to Top Perrett, Rebecca
Adjunct Faculty
MSW- Masters in SWK
Email: rperrett@css.edu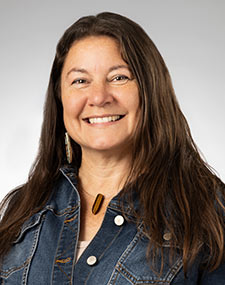 Prussia, Leah
Assoc Prof, Social Work
MSW- Masters in SWK
Office: S1204E
Phone: (218) 723-6200
Email: lprussia@css.edu
View Site
Back to Top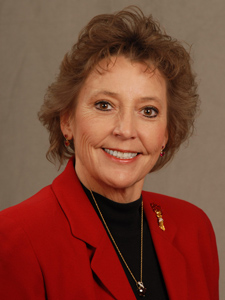 Robertson, Michelle
Asst Prof/Dir UG Field Pgm,SWK
Social Work
Office: T3403
Phone: (218) 723-7018
Email: mroberts@css.edu
Back to Top Santmyer, Sharlene
Project Associate
MSW- Masters in SWK
Email: ssantmyer1@css.edu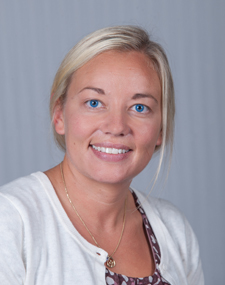 Sneed, Michele
Asst Prof/Chair SWK
Social Work Extended Studies
Office: Austin
Email: msneed@css.edu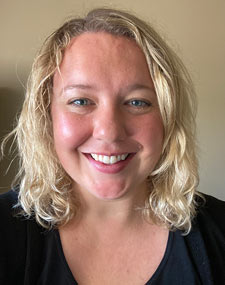 Sorenson, Elizabeth
Mental Health Therapist
Counseling Services
Office: T2149E
Phone: (218) 723-5906
Email: esorenson@css.edu Back to Top Wells, Sarah
Mental Health Therp./Edu Coord
Counseling Services
Office: T2150B
Phone: (218) 723-6746
Email: swells1@css.edu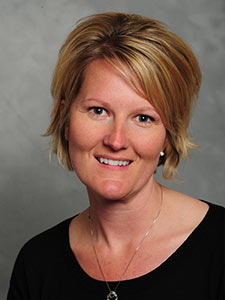 Kara Griffin,
×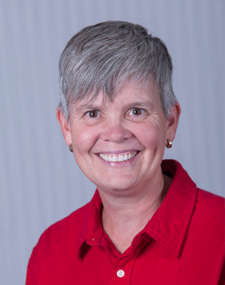 Constance Gunderson, PhD, MSW, LISW
Connie Gunderson, PhD., MSW, LISW, is an associate professor at the College of St. Scholastica. Having completed her undergraduate studies at the College of St. Scholastica, she moved and worked in Germany until 2012. She completed her MSW at the Alice Salomon Hochschule in Berlin, and received her PhD at the University of Bremen. Dr. Gunderson has worked in the field of social work for over 30 years. As an instructor, her areas of scholarly expertise include human trafficking, gender studies, and international social work research. As a relational cultural therapist, her clinical foci has been on women, trauma and addiction and addressing the needs of families. As a researcher, she has completed studies of human trafficking in Germany and the European Union. She has published books and articles addressing social issues such as human trafficking, diversity, and gender. Dr. Gunderson has international teaching and advisory partnerships with diverse universities and colleges in Europe and the United States.
×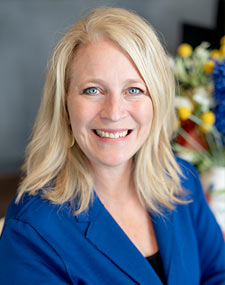 Krista Harju, MSW, MEd, LICSW
Krista is an alumni of CSS, both as an undergraduate and graduate student.  She has experience in non-profit development, healthcare, healthcare policy, maternal mental health and early childhood.  She is passionate about many areas of social work and enjoys helping students find their place in the field.  Krista is married with four children and outside of attending baseball and hockey games, her favorite thing to do is snowshoe.
×
Matthew Johnson,
Matt teaches SWK 3362-Human Behavior in the Social Environment and is employed as a social worker with Saint Louis County.
×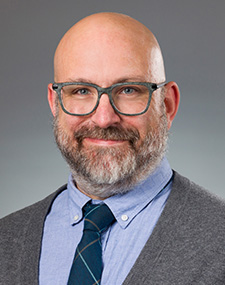 Glenn Maloney,
×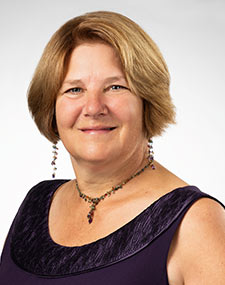 Carin Mizera, DSW, LICSW
Carin Mizera has been at CSS since September 2015 in the Masters of Social Work Department. She teaches direct practice and filed courses, as well as an elective in the treatment of trauma, which has been her passion for over 20 years. She also practices and teaches mindfulness techniques, and has a great interest in spirituality practices in treatment.
She has a small private psychotherapy practice in Duluth. Dr Mizera is presently serving as the MSW Program Director. She is an avid hiker in all seasons.
×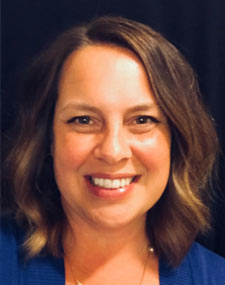 Tracy Mongan, MSW, LICSW
Tracy Mongan, MSW, LICSW, Assistant Professor/Online Coordinator 
Tracy obtained her MSW from the University of MN – Duluth in 2006, and her BSW from Concordia College (Moorhead, MN) in 1996. Her areas of passion include educating and mentoring future social workers, the interweaving of spirituality in the practice of social work, and international travel and connections.
×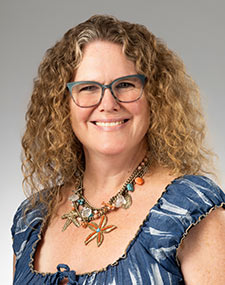 Aileen Moore, MSW, LGSW, LMSW
Aileen P. Moore, MSW, LGSW, Assistant Professor & Field Coordinator, Brainerd Campus
Aileen joined the C.S.S. Social Work Program in the Fall of 2016.  Aileen came to CSS from Catholic Charities in Phoenix, AZ, where she served for several years as the Program Director for the Unaccompanied Minors Refugee and Immigrant Foster Care Program. Prior to becoming the Director of the foster care program, she worked as a federal child welfare specialist for unaccompanied minors. It was a year of volunteer work with Annunciation House in Juarez, Mexico which ignited Aileen's passion for working with immigrant families. Aileen also worked in bilingual school social work in Phoenix, AZ. Prior to her work in Arizona, Aileen worked for many years in New York City, first with formerly homeless women and children at Women In Need (WIN) and later with at-promise youth at Grand Street Settlement. There she served as the Director of AmeriCorps and coordinated group and 1:1 mentoring programs. Aileen began her work with CSS at their Arizona campus as an Assistant Professor and has transitioned to working as an Assistant Professor and Field Coordinator for the Brainerd Campus. Before joining the CSS Faculty, Aileen taught in the Master of Social Work Program at Arizona State University. She is thrilled to be a part of the CSS Social Work Team, where the Benedictine values are the foundation of our work.
×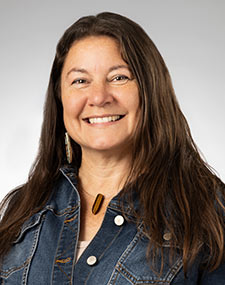 Leah Prussia, DSW, LICSW, SEP
Leah Prussia is a self-described "tree hugging dirt worshiper." She has worked with diverse populations throughout her years as a clinician to assist each person find and actualize their definition of health and wellness. Dr. Prussia uniquely blends teachings from Nature, Peter Levine's Somatic Experience work, Relational-Cultural Theory, and Cognitive-Behavioral approaches to address the biopsychosocial and spiritual aspects of individuals. Her background includes extensive knowledge and practice in mental health services, substance abuse, trauma, program administration, and grass roots advocacy. Due to micro, mezzo, and macro practice experience, Dr. Prussia teaches the following courses for the CSS MSW Program: Assessment/Differential Diagnosis, Evidence Based Intervention/Treatment, Preparation for Field II, Field II, Foundations of Social Justice, Advanced Policy and Community Practice, Advanced Practice with Groups, and Advanced Practice: Environmental Social Work. Her education includes a Bachelor's degree in Psychology from Moorhead State University, a Master's degree in Social Work from the University of North Dakota, and a Doctorate in Social Work from St. Catherine University – University of St. Thomas. Dr. Prussia is a Licensed Independent Clinical Social Worker in the State of Minnesota and sole proprietor of Natural Connections LLC.
×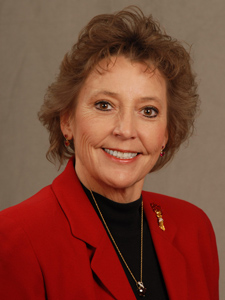 Michelle Robertson, MSW, LGSW
Michelle is the Undergraduate Social Work Program Field Director.  Michelle joined the CSS faculty in 2004. Michelle trains for various agencies in the areas of child welfare, Indigenous issues, leadership coaching, and International study abroad.
×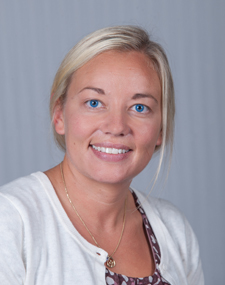 Michele Sneed, DSW, LGSW
Michele Sneed, DSW, LGSW, Assistant Professor and Social Work Department Chair started working at The College of St. Scholastica in the Social Work department in the Fall of 2016.  Michele completed her Doctoral Degree in Social Work through Capella University. She obtained her Master's Degree in social work from the University of New England, her Bachelor's degree in social work from Winona State University, and completed the Infant and early childhood mental health certificate program through the University of Minnesota. Michele has spent years of her career working within the child welfare system. Currently, she is also working as an individual and family therapist with a specialty working with ages birth to five. Further experience has included curriculum development for community groups, facilitation/coordination of family meetings, authorship, and case management. 
×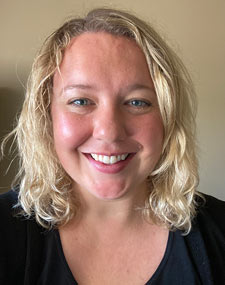 Elizabeth Sorenson,
×
Lori Swinney, PhD
Dr. Lori Swinney is an adjunct instructor for the College of St. Scholastica Masters of Education program. She has over 30 years' experience in instructional design, multicultural education, college teaching, and technology. She worked at the University of North Dakota as a department director and taught courses online and on campus as an adjunct assistant professor for almost 30 years. She, currently, works as a consultant and educator for several campuses in the North Dakota University system focusing on student success, quality course design, innovative teaching, and research.
×